Top 5 Reasons Why Wine Is A Girl's Best Friend
Women love wine. It helps us celebrate our highs and mourn our lows. Whether red wine, white wine, or champagne - we know it will never let us down
Have a bad day? A glass (or, a bottle) of wine (whether red wine, white wine, or champagne) can solve that. Celebrating a promotion? Break out the champagne! Sunday-Funday? It's not a Funday without a few mimosas… or 3, or 4…
Whether it's a celebration, a need for comfort, or even just a Tuesday, wine is and always will be a girl's best friend. Make sure to follow @womenwholovewine for daily
wine-spiration (and shop their amazing collection of wine-inspired goodies)!
Here are just a few reasons why women just can't get enough wine:
5.) Wine Helps Us Set #RelationshipGoals
We are strong, confident, independent women and we should never settle for anything less than we deserve. We'll never settle for cheap red wine or white wine (unless it's that timespan when we've already paid rent and are waiting for the next paycheck to come in. Then, okay.) and we'll never settle for a man who doesn't truly deserve us. Wine helps us weed out the good from the bad, and helps us find our husband material.
Want to find a man whose taste in wine is just as good as yours? Challenge him to a game of [amazon_textlink asin='B00PGL8820′ text='Read Between The Wines' template='ProductLink' store='top50c30-20′ marketplace='US' link_id='553e046c-0b35-11e8-a709-07e364a80562′]! [amazon_link asins='B00PGL8820′ template='ProductAd' store='top50c30-20′ marketplace='US' link_id='eb00d2e1-0b32-11e8-966b-5127e6e8506b']
4.) One word: Mimosas
Here's a conundrum for you: was it really a "Sunday-Funday" if no mimosas were present? We think not. Mimosas making drinking wine for breakfast acceptable. Whether it's a baby shower, brunch with that girls, or your niece's soccer game, mimosas make any event better and help set the tone for the rest of your day (which, when started with mimosas, is likely to be pretty spectacular).
While the classic mimosa is easy (equal parts champagne and orange juice), we like to spruce things up from time to time. One of our favorites is the Tequila Sunrise Mimosa:
Ingredients:
1 ounce tequila
1 ounce champagne
1 ounce orange juice
Grenadine
Fresh orange (to garnish)
Pour 1 ounce of tequila into a champagne flute.
Add champagne until flute is roughly half full, approximately 1 ounce or slightly more.
Pour in orange juice until flute is mostly full, save for about ½" at the top of your flute.
Finish by adding a large splash of grenadine to each flute. Sip and enjoy!
Have a friend who loves mimosas as much as you do? Share this article with her!
3.) Wine is Always Down To Netflix and Chill (NSA) 
When a guy suggests you "Netflix and Chill," he's usually not expecting to actually "chill." Wine is different. With wine, you know exactly what you're getting and there are no strings attached… You're calling the shots. You select your favorite bottle, log in to your Netflix account, and stream whatever you're in the mood for. Handmaid's Tale? Pairs perfectly with a bottle of Justin. Stranger Things? Complements a bottle of Kendall Jackson oh so well.
Don't have plans this Valentine's Day? We recommend snuggling up with a bottle of whatever-you'd like and streaming one of our favorite wine movies. You may even learn something about your favorite beverage!
2.) Red Wine Is Actually Good For You
As if we needed any more reasons to love wine, red wine is good for you. We repeat: red wine is good for you!
Similar to our other BFF, dark chocolate, red wine is full of antioxidants. The antioxidants in red wine have been proven to reduce cholesterol, benefit your heart by reducing the risk of blood clots, help diabetics regulate their blood sugar, improve memory, help stave off colds and even fight cancer. Plus, studies have shown that one glass of red wine is the equivalent to an hour at the gym!

While we wish day drinking counted as cardio, and running out of wine added steps to your fitbit, alas, they don't… But we can still pretend!


1.) Through Thick And Thin, Wine Is There For You
Wine is always there for us. Maybe it can't solve the world's problems, but it can solve ours. Or, at least give us a bit of a reprieve from them. Wine helps us celebrate the good, and it helps the bad not look so bad. A bottle of Veuve Clicquot is the perfect way to celebrate that promotion you've been working towards. And, when you're going through a breakup, a bottle of Cabernet (whether it's Justin or Two Buck Chuck) helps drown your sorrows. If only it would prevent you from drunk texting him…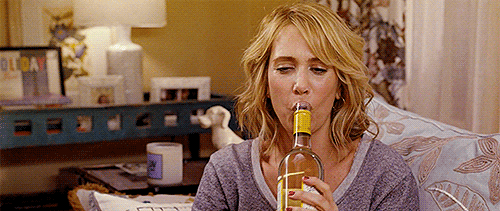 Show your best friend you love them with these amazing stemless goblets – that hold nearly the entire bottle!
No matter the day, occasion, or even the time – wine is there for you. Tag a friend in the comments who you'd like to share your next bottle of wine with! Or use #winedownwednesday and #top5 on your next wine inspired Instagram post!