America's Best Christmas Towns to Visit
America's Best Christmas Towns to Visit
I love towns and cities that go all out for Christmas.  There is really nothing more beautiful and festive.  These "Christmas" towns have a life to them all of their own with their flashing Christmas lights, decorations, parades and festivals.  I love those towns that embrace their white winter wonderland at first snowfall, but even those warmer cities can teach a lot about how to do Christmas right.
Put some Christmas music on, roast those chestnuts, and throw a yule log on the fire as and let us take you through the 40 Best Christmas Towns in America.
1.)  New York, New York
After all the great Christmas movies in New York city such as, Miracle on 34th Street and Elf, New York is big city Christmas.  There's simply no place quite like New York City at Christmas time.  New York is perfect for Christmas celebrations.  With its countless attractions, skating rinks, and shopping opportunities galore, it's an obvious choice for at least one of your family's Christmas trips.
Radio City Rockettes Show at Radio City Music Hall
Ice Skating in Central Park
2.)  J
ackson, WY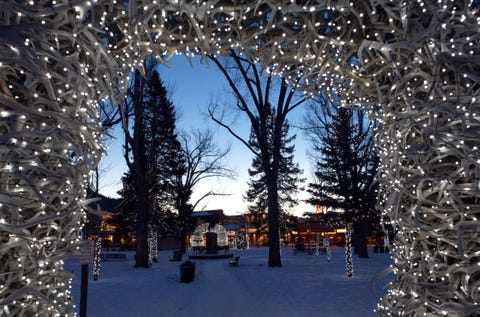 Jackson Hole, Wyoming, brings a large number of tourists into its city for It's incredible ski resorts.  There is no place better to be at Christmas with its Christmas celebrations and stunning snowy Teton landscape.  At the National Elk Refuge you can take a horse-drawn sleigh ride and admire the wildlife and the scenery.  For those seasoned skiers and snowboarders, if you stay through New Years, take place in the Glow Worm and Torchlight Parade.
Glow Worm and Torchlight Parade, Teton Lift Jackson Hole
3.)  Stockbridge, MA
Old-fashioned cars line the main street to recreate the painting, and the public can tour historic homes decorated for the holidays.
4.) 
Branson, MO
RUDOLPH'S HOLLY JOLLY CHRISTMAS LIGHT PARADE
Christmas in the Ozarks
5.) 
Franklin, TN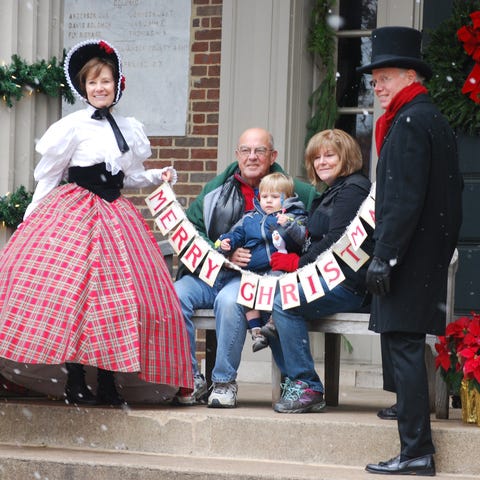 Franklin, TN every Christmas time host the
annual Dickens of a Christmas festival
in historic downtown Franklin. The festival, which is has run over 34 years, brings characters from
A Christmas Carol
 and 
Oliver Twist
 to life throughout its weekend-long festivities.
Roam the Victorian Village and try Victorian era Christmas treats like sugar plums while listening to carolers.
Christmas Tree Lighting, Franklin, TN
6.) 
Santa Claus, IN
Santa Claus is a town in southwestern Indiana. It's well known for its Christmas theme. In town there is the Santa Claus Museum & Village,  1880 Santa Claus Church, Santa Claus Post Office and a tall, 1935 Santa Claus statue.   In the late 1920s, the local postmaster began to promote the town and pretty soon, children's letters to Santa began pouring in. Every year, thousands of letters are answered by volunteer Santa's Elves.
Local festivities include a themed parade, a candy castle (selling nostalgic hard-to-get favorite treats), and 
Santa's Land of Lights
, a 1.2-mile drive-through holiday light show.
Santa's Land of Lights
7.) 
Cape Cod, MA
Cape Cod Village
8.)  Williamsburg, VA
Colonial holiday traditions like caroling by torchlight, fife and drum performances, and interpretive programs (care to celebrate with the Madisons and Jeffersons?!) set the stage for Christmas in charming Williamsburg. The 400,000 candles, 2552 wreaths, and 10 million lights make Christmas in Williamsburg a top 10 Christmas town.
The best event is the Grand Illumination, a celebratory fireworks and historic gun-salute display, best viewed from the town green. Also,  Busch Gardens opens for the holiday with Christmas Town.
Did you know the North Pole was in the USA?  It is, in Alaska.  the town celebrates Christmas year round and is has the residence of Santa Claus with his reindeers.
My favorite part of the town is the name of every mayor in the town is Santa.
Lots of Santas Live in the NorthPole
10.) Duluth, MN
Duluth officially kicks off the season with the Christmas City of the North nighttime parade through downtown the Friday before Thanksgiving. The parade is followed by the Christmas City Express train, the warm glow of decked-out Victorian mansions, and the bustle of holiday events ranging from comedy reviews and ballet to fairs featuring locally made gifts.
Bayfront Festival Park
11.)  Dyker Heights, Brooklyn
Residents of this walkable Italian-American enclave is the home of the most extravagant Christmas light displays in the USA.  Crowds from all over New York visit the town outside of the big city to get a more small town Christmas feel.
Over-the-top decorating at Dyker Heights
12.) 
Asheville, NC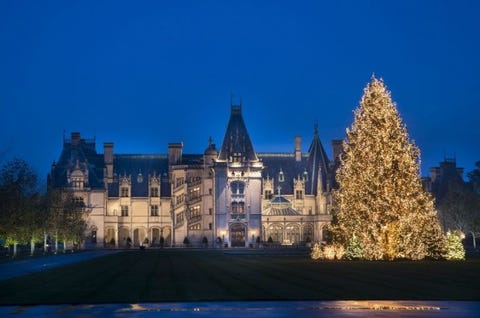 The headline Not surprisingly, much of Asheville's holiday focus is on Biltmore, the historic Vanderbilt mansion.  Christmas at Biltmore is the biggest event of the holiday season.   You can see America's largest home decked out in festive finery. Candlelight Evenings are especially magical.
Biltmore Lobby
You also should spend time at the light display known as Winter Lights at the NC Arboretum. Stroll through impressive light displays in the Arboretum gardens, especially designed to compliment the plants and trees in this beautiful setting.
Winter Lights at NC Arboretum
13.)  Washington DC
What better way to spend Christmas than with the National Christmas Tree in Washington, D.C. This tree is just south of the White House and has been lit every year since 1923. Surrounding the tree are 56 smaller trees representing the 50 states, 5 territories, and the District of Columbia.
National Christmas Tree
Zoo lights is very fun at the National Zoo.  Indulge your wild side with an after-hours visit to the National Zoo during ZooLights, which illuminates the zoo with more than 500,000 animated light installations, live music and more.
14.) 
St. Augustine, FL
Also see the sparkle of lights from the water.   St. Augustine Eco Tours harbor tour of the Nights of Lights provides a peaceful way to experience the illuminated city aboard 6 or 12-passenger boats.
Lights on the Water
15.) 
Bethlehem, PA
There's no better place to visit during the holidays than Christmas City in Bethlehem, Pennsylvania. On Christmas Eve in 1741, Moravian Count Nicholas Ludwig von Zinzendorf christened Bethlehem and in 1937 it took the name Christmas City.
Spend Christmas in Bethlehem without shelling out a fortune on airfare or traveling back in time! This Pennsylvania town boasts horse-drawn carriage rides and a "Christmas City Stroll" that'll have your entire family smiling and laughing.